Before I start.. here, photographic evidence. Wearing the same jumper, both pre and post butchering.
.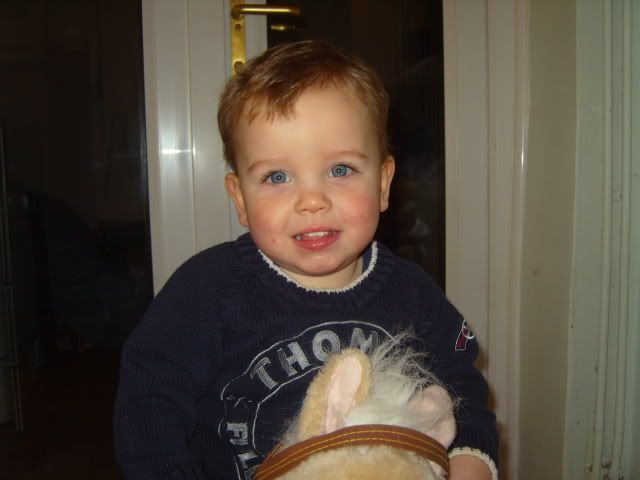 You see? He's a different child.. and far too grown up. And I think all his good humour was contained within the hair as he's been a whinging whine bag all day. Grow hair, grow.
Other than that source of depression, it's been a good day. I have officially finished all my Christmas shopping. Well except for the food. But if I buy that now it'll go off. Lal fell asleep in the pushchair about 2 minutes after leaving the car park, which was brilliant as it enabled me to shop without having to stop every two minutes to plug him back in. To the pushchair.. not a battery source.. ooh, but how good would that be? A natural break everytime a toddler's batteries ran out.. *daydreams longingly*
Which reminds me.. his continual eating of my mobile phone has left it unable to charge. I don't know why.. but there is sort of green goo in the charging bit and now it fails to recognise when it's plugged in. I may have to buy yet another one. Pfft.
I was in the car coming back home, shopping laden, when there was an absolutely brilliant advert on the radio (Magic FM... all songs I know) from the NHS. Apparently.. when you sneeze or cough, the best thing to do is to use a tissue to stop the germs spreading. Now, I didn't know that and can now see, by dint of ridiculously expensive advertising campaign, that yes, a tissue will protect those around me.. and stop snot running down my face. It also helpfully told me that when I have used the tissue, I should put it in the bin. Genius idea. Nice to know that the NHS is spending their money wisely.
That's it for tonight, I am pretending to put the Tesco shop away, Lal's toys away, do the ironing and empty the recycling for tomorrow's collection.. so if anyone asks, you didn't see me.
K xx